Ready-to-use Analytics Solutions
Instantly deploy a wide range of analytics using ready-to-use solutions and flexible dashboards.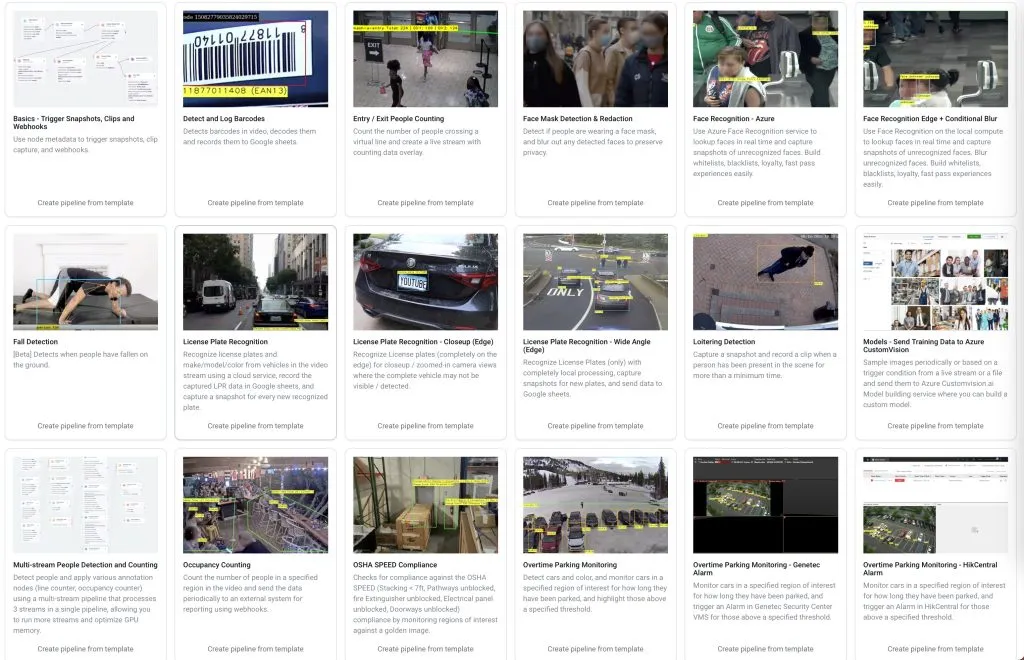 Lumeo's Ready-to-deploy solution templates make it easy to get started with common use cases, and then fully tweak them to your needs.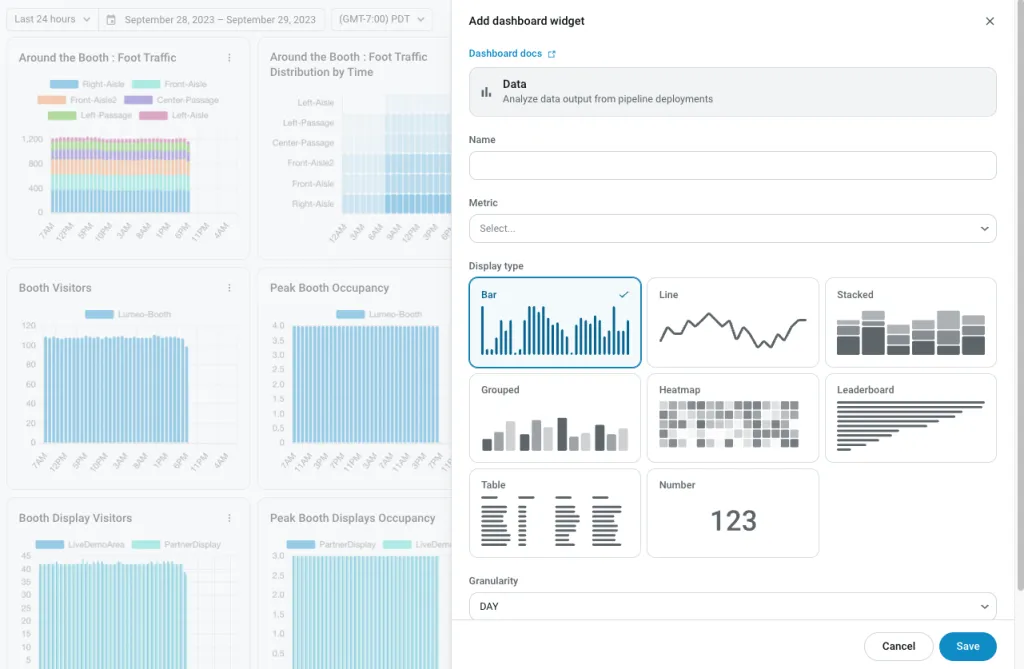 Flexible, Multi-modal, Realtime Dashboards
Create dashboards that combine live video, event clips, and data — to deliver the operational insights you want. 
Start with our ever-growing library of
ready-to-use AI models
or bring your own.
Go beyond the bounding box. Connect model detections and classifications to rules and 
third-party systems
Add metadata
Inject a file's contents as metadata to each frame
Azure face recognition
Lookup detected faces using Azure Face Recognition API
License plate parser
Extracts and post-processes license plates recognized using the License Plate Recognition - Edge AI Model
Blur Objects
Blurs any detected objects in the video
License plate MMC cloud
High accuracy license plate + make/model/color recognition using Lumeo's cloud service. Operates on plates previously detected using the License Plate Detection model.
Publish to Elasticsearch
Publish metadata to Elasticsearch for reporting and dashboards.
Custom function
Manually process or modify frames and metadata
Encode Video
Encode raw video frames and output an encoded stream
Build any use case from anywhere, in record time.
Production-ready templates
Get up and running fast with
existing or new
infrastructure.
Use any media source, for real-time analytics. Built-in support for any ONVIF / USB Camera, RTSP streams, HLS and MPEG-Dash feeds.
Run analytics on video clips or recorded footage. Analyze it after the fact or run a forensic search.
Integrates with VMS and NVRs for a single-pane-of-glass. Extract streams from your VMS, process with Lumeo, and feed them back.
Deliver reliability easily, with real-time monitoring of your cameras and analytics. Alerts, webhooks, and integrations make it easy to reduce downtime.
Design centrally, deploy anywhere:  Lumeo cloud, Your cloud,  On-prem GPUs.
Ditch proprietary, closed hardware and leverage state-of-the-art, open computing devices from our industry leading partners.